Randger R600 compact campervan for rent
One campervan available for rent:
Randger R600 campervan (4 passenger, manual transmission)
Extremely practical campervan for rent. The functional interior and freedom it provides will surprise you! You can travel in comfort with as many as 4 people on board. If you're looking for an option that is easy to drive and maneuver on the road this is an excellent choice. A reversing camera and a sensor will assist you in parking. Renting a campervan from us isn't just a great idea for a family vacation. It's also a way to spend a romantic getaway for two or comfortable way to travel if you're looking for some time alone.
Excellent handling and maneuverability
No special license required – category B is sufficient
Compact but fully functional interior
Well-equipped kitchen
Modular bathroom with shower
Large, comfortable beds that sleep up to 5 people
Hook for attaching a trailer
Will take you on your dream trip quickly and safely
Air conditioning and heating – travel in comfort regardless of the season
Campervan rental starting at PLN 490/day (including tax)
Randger R600 campervan - basic technical data:
Randger R600 campervan

Length: 5.99 m

Height: 2.66 m

Seats: 4

Places to sleep: 5 (different configuration options i.e. 2+2+1, 2+1+1)

Payload: approx. 520 kg

Gross vehicle weight: 3.5 t (driver's license cat. B)

Engine: 2.3 JTD MultiJet 2 160HP EURO 6D 

Transmission: manual, 6-speed

Integrated roller blinds and mosquito nets

Towing hook (gross vehicle weight 2000 kg)

Sinus Plus 1500 W converter + 2 x 230 V socket

Solar kit 150 W
Campervan for rent featuring top of the line equipment – fully loaded!
The Randger R600 is a campervan that will make your travel dream come true. The possibilities are endless!
See what makes this campervan for rent stand out:
The best version equipment and highest trim level!
Travel with the whole family in the new Randger R600 campervan which features a powerful Fiat Ducato Heavy JTD 160HP engine paired with a 6-speed transmission. Thanks to the amount of torque it provides this engine can handle any conditions. In addition, it can pull a large trailer (GVW 2000 kg). This KoKo Kamper campervan provides year-round comfort because it features the extremely efficient TRUMA COMBI 4 D 4000 W interior water heater with control panel (powered by diesel fuel from the vehicle fuel tank) as well as a heated gray water tank and of course an excellent Dometic FJ2200 air conditioner.
Perfectly designed interior in this campervan
Van-type campervans are distinguished by their efficient use of space. Every piece of equipment has been carefully thought out and does what it's supposed to do. In this camper you can shower, cook dinner and sleep comfortably!
Family campervan - perfect for 4 people
4 people can travel and relax comfortably. Comfy beds, table seating and of course places for you to safely sit in while your travels await. In addition, the large outdoor sunshade will allow you to create a comfortable covered terrace at the campsite.
Functional bathroom in a campervan
This brand-new campervan for rent features a practical and fully equipped bathroom. The cleverly designed room has everything you need to maintain full independence during your trip – toilet, sink with large mirror and shower.
Fully equipped kitchen and practical dining room
Traveling in a campervan doesn't have to be about compromise. In the kitchen you'll find a roomy fridge, two-burner stove, and sink, as well as plenty of storage space. Of course, there's also a table where you can eat comfortably with the whole family.
Our campers are equipped with pans, pots, dishes, cutlery, glasses, cups and french press, everything you need to prepare your favorite meals.
Special Amenities - campervan
Campervan for rent - features
Randger R600, FIAT DUCATO HEAVY 2.3JTD 160HP engine
Campervan for rent - equipment
Randger R600 with Fiat Ducato Heavy 2.3 JTD 160HP engine
Randger R600 campervan interior - layout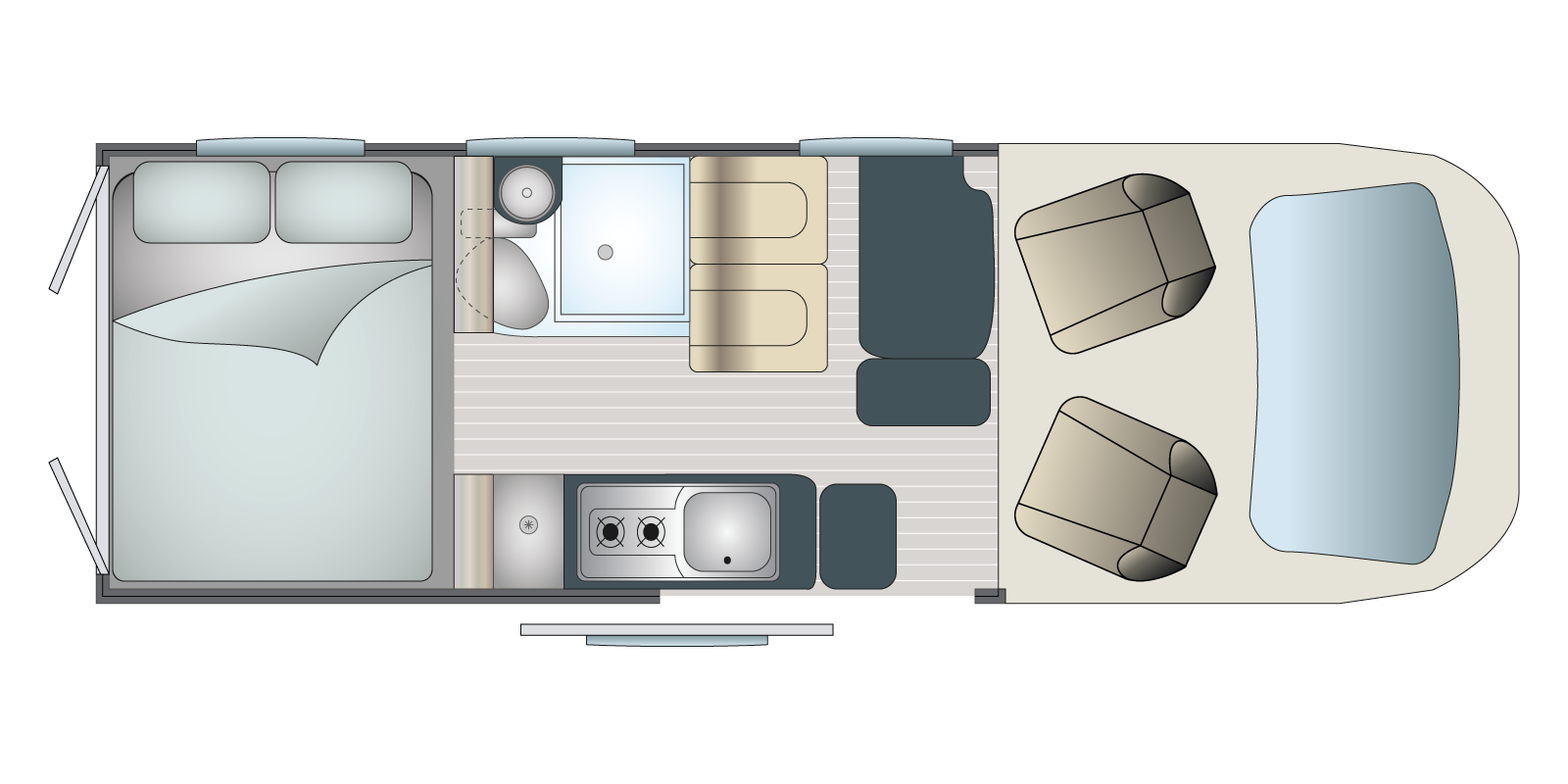 Randger R600 campervan interior - photo gallery